Whether you're camping in the mountains, out at sea or deep in the woods, waterproofing for a tent is an essential part of any outdoor adventure. Even though new tents come with a variety of water-resistant coatings and features that make them more resistant to dampness, they still need to be properly maintained. Because with the accumulation of time, the seams, fabric and rain fly of the tent are easily damaged, resulting in a decrease in waterproofs. In this blog, we'll walk through the deep reasons why you need to waterproof a tent, how to detect if your tent needs waterproofing and how to waterproof them step by step, so your next adventure will be dry and comfortable!
Why Do You Need To Waterproof a Tent?
While most tents come pre-coated with a water-repellent coating, it's important to check and recoat waterproofing regularly, as they wear down over time. And there will be wear after long-term placement or use, especially at the seams and entrances. This requires us to perform regular maintenance. Waterproofing tents not only keeps you dry in the event of unexpected rain, it also protects your tent from harmful UV rays and abrasion. Without proper waterproofing, your tent can lose its water resistance and the next camping experience can quickly turn into a wet and uncomfortable night.
How To Check If Your Tent Needs Waterproof?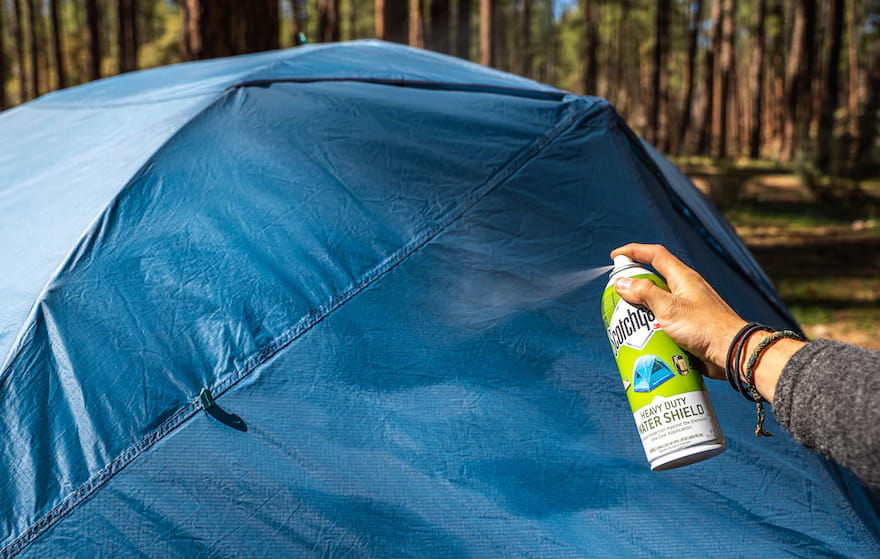 Before waterproofing on tents, you need to check whether your tent needs waterproofing and which places need special maintenance. Be sure to check your tents for any signs of wear, such as holes or leaks, and here are a few tips to make it easy and thorough:
Check 3 places: Seams, fabric, and rain fly are three places where tents can leak, which means you need to double-check them for any signs of wear or tear the first time.
Spray water on it: Then, assemble the tent and spray it with a garden hose, paying special attention to the seams, guy lines, and zippers. 
Check the inside: If the water seeps through the fabric, it's time to reapply a waterproofing spray. (Tips: If there are droplets of water inside the tent, don't panic, it's condensation. It's not that the tent is leaking.)
Check the outside: Finally, check the outside of your tent. If there are many drops of water rolling down the outside of the tent, then the waterproof function of the tent is intact. Otherwise, you need to take good care of it.
A Step-By-Step Guide On How To Waterproof a Tent
If you have found the problem with your tent through the above methods or you want to regularly waterproof your tent, follow the steps below and you will be able to accomplish this task easily:
Choose The Right Waterproofing Tool
As we just said, the tent has 3 vulnerable places: Seams, fabric, and rain fly. For these three places, we also have corresponding sealants and waterproof materials. First, you can buy some waterproof tape or tent seam sealer for rips in the tent seams. To maintain fabric and rain fly, there will be different kinds of tent waterproofing spray. For example, silicone-based sprays provide a durable barrier against water and can be sprayed directly onto the tent fabric. Silicone-based sprays are also breathable, which can help prevent condensation inside the tent. You have to buy according to the material of your tent. Also, you'll need some brushes and sponges to help you apply them evenly.
Clean Your Tent And Set Up It For Ready
After you have all your tools ready, give your tent a good clean. Never wash directly with a washing machine. You will need to use warm water and a sponge, and gently wipe down the outside of the tent. It is best to use detergent, carefully scrub the seams and zippers and other places. Then, set up the tent for waterproofing easily.
Apply Waterproofing Spray On The Fabric And Rain Fly
When the tent is not dry, spray tent waterproofing on the outside of the tent to ensure that the entire tent, especially the fabric and rain fly are evenly covered with waterproofing treatment. Then let it dry in the sun.
Apply Seam Sealer On The Tent Seam
Wait until the tent is dry and place the tent on a clean, flat surface with the seam inside facing up. Using a dry rag or sponge, wipe the seams with a little rubbing alcohol to clean the fabric and carefully remove any flaking debris. Then apply the seam sealer with a small brush and apply it to the seam as directed. If any seam breaks, you should definitely secure it with waterproof tape. Otherwise, it will not only leak water, but also affect the stability of the tent. Finally, pack up the tent and prepare for your next amazing trip!
Conclusion
In conclusion, waterproofing your tent is a vital step in camping preparation. With waterproofing, you are ready to face the seasons on any terrain with confidence. By taking proactive steps of pretreating materials, sealing seams and zippers, and using special sealants, you are giving your tent the best possible chance of lasting for many seasons to come. Furthermore, taking on preventive maintenance such as washing the fabric with soap twice a year keeps your tent free of dirt or mold in between outdoor trips — this will also keep it looking and performing like new. Doing all this not only helps protect your investment but more importantly protects you from the elements in nature! Take these tips into consideration as you plan for your next camping trip and enjoy the great outdoors!
[ddshopfaq-59134]